TIME & SPACE VISUALISER

Time & Space Visualiser by Paul Smith is the first exploration of both the factual and fictional history of Doctor Who through a range of eye-catching graphics, presenting information about the show in a way never seen before.
As the famous TV series nears its 50th anniversary, this book takes a fresh perspective, visualising information from every aspect of the programme to show there are lots of options beyond lists and tables. Each chart is accompanied by detailed notes discussing the background and context of the areas under examination, how the data was compiled and what it reveals. The results can therefore be appreciated by those interested in the possibilities of data visualisation while also presenting new angles to Doctor Who devotees who might think they know all there is to know about the show.
Time & Space Visualiser: The Story and History of Doctor Who as Data Visualisations; 120 pages, full colour; Designed and written by Paul Smith; Published by Wonderful Books; Printed on demand through Amazon's CreateSpace; Softcover; 22x28cm; ISBN 978-0-9576062-0-3
For further information or to request a review copy please contact Paul at pmcs@wonderfulbook.co.uk
Click here to read reviews of Time & Space Visualiser
Page samples
Click each image to view a larger, legible version of the page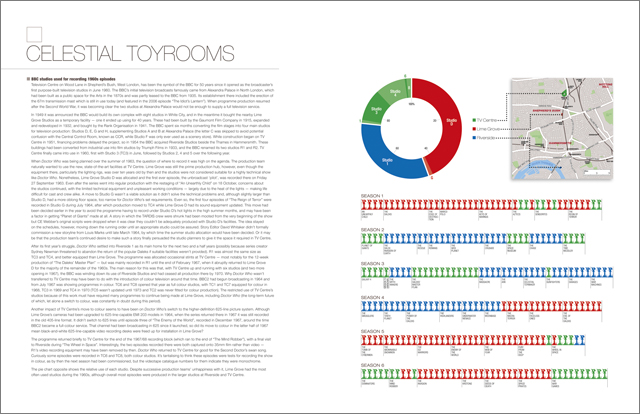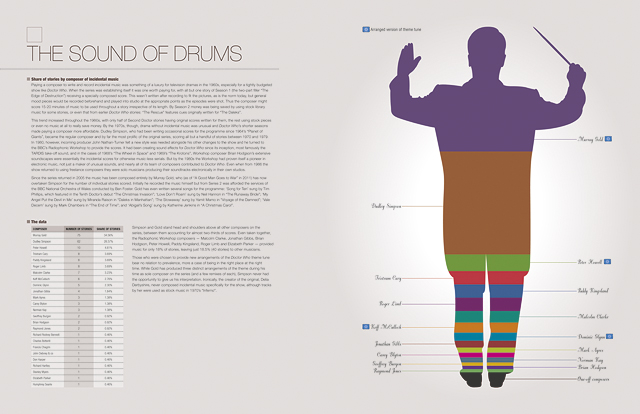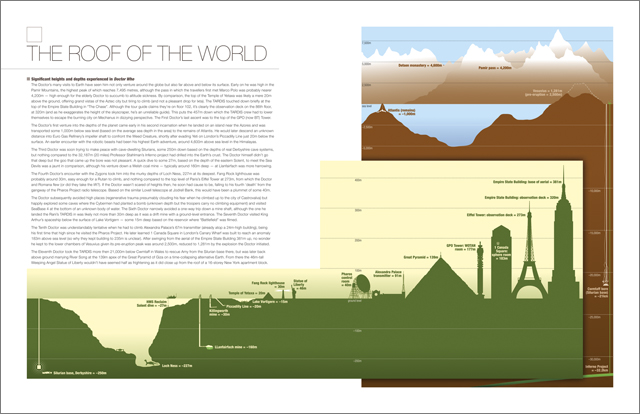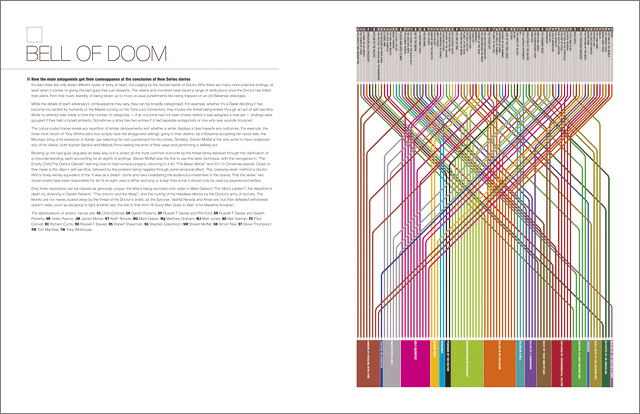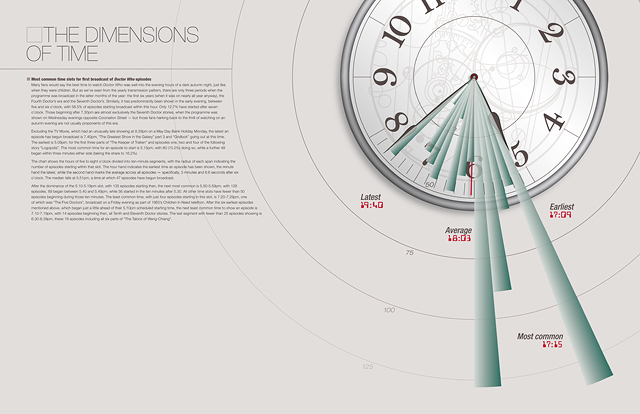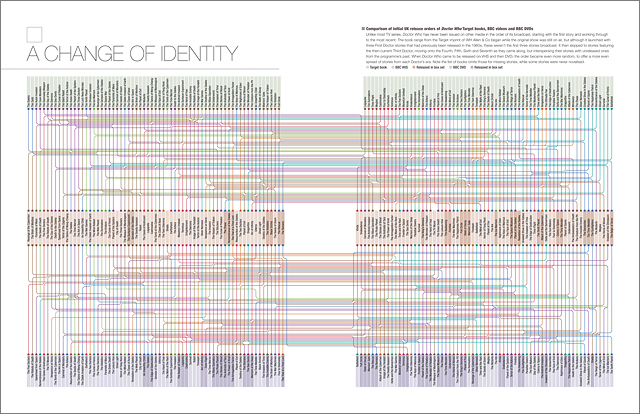 Starburst magazine
"With such a rich history, already mined, it's difficult to think of anything new or indeed different that can be covered in the inevitable tsunami of books which will no doubt be released in celebration of the series' fiftieth anniversary. Luckily, self confessed Doctor Who fanatic and writer Paul Smith has come up with a truly elegant solution to this dilemma with the publication of his mysteriously titled Time & Space Visualiser...
"It's a book which fully lives up to its back cover hyperbole of presenting 'Doctor Who as you've never seen it before!' Paul Smith is to be congratulated on finding a wholly original way of bringing the Time Lord's statistics to life as a series of graphic data visualisations. That's right - this is a series of graphs. And although the information displayed probably isn't new to the more seasoned and detail hungry members of Who fandom who consume the show's trivia with the voraciousness of a black hole, it certainly is a book that lends itself to several hours of browsing and comparison...
"It's an incredible achievement, and some of the facts and conclusions that can be drawn are pretty surprising... You can glean conversation stoppers such as who has written the most incidental music for the show, how many episodes have been recorded in which particular studios at the BBC Television Centre, the writers and directors ranked according to their popularity among viewers. But the geekgasm really begins in the Fiction section where we have graphs showing the cumulative shift between Earth and elsewhere over the Doctor's timeline, the highest points of the Earth visited, as well as the lowest depths and all points in-between. How many episodes have finished with a cliff-hanger that involved a surprise revelation, a monster reveal or a worrying discovery? What's the gender balance of major villains? What are the minimum and maximum number of on-screen Dalek task forces?
"So much information - this book is a TARDISful of pure geek gold which has to be seen to be believed. 10 out of 10."
Click to read the full review by Robin Pierce
Kasterborous.com
"A welcome addition to Doctor Who's rich history is Time & Space Visualiser by Paul Smith, who has poured over Doctor Who data since its very inception all the way up to the 21st century in order to provide a book that provides fascinating infographs on the most important Doctor Who details in front of and behind the camera.
"To describe this publication as a labour of love is simply not enough, the effort and research that must have gone into it have to be read to be believed. Graphs of all shapes, sizes and varieties cover the Doctor's televised adventures, the companions that accompanied him, the producers for each story, the writers and the monsters as well. But that's just scratching the surface...
"Whilst it's always impressive to read a Doctor Who book that goes into detail about the history of the show, never has one gone to quite such lengths in order to prove its point. The visual side of this book is delightful and offers something truly fresh and original for the reader, especially the more seasoned of you that have been reading Doctor Who non-fiction for many a year now, there is genuinely something new here for you to enjoy."
Click to read the full review by Meredith Burdett
SFX magazine
"In a market already saturated with histories of Doctor Who, graphic designer Paul Smith has, to his immense credit, come up with an original approach. This slim, pricey tome presents all manner of scrupulously researched facts and figures (drawing on every episode up to and including 'The Angels Take Manhattan') in the form of 'data visualisations', like a Who-themed spin on David McCandless's book Information Is Beautiful...
"For hardcore Whovians there are 'Fancy that!' discoveries dotted about, as you learn that, for example, the series has visited the USA more times than northern England, that the Pertwee era didn't have a single female villain, or that (thanks to repeats) the series was only off the air for four weeks in 1968. (Warning: do not try using these facts to impress people at parties.)"
Click to read the full review by Ian Berriman
Cathode Ray Tube
"Time & Space Visualiser, by artist and writer Paul Smith of Wonderful Books, is the first exploration of both the factual and fictional history of Doctor Who through a range of eye-catching graphics, presenting information about the show in a way never seen before...
"Data isn't just a string of words and numbers, as Paul argues, because it can look great too and for a series like Doctor Who, probably one of the most researched and over-analysed television programmes in the world, there is an imperative to find new ways of looking at the fundamental facts and figures we associate with it...
"When we move to 'Fiction' I think we get some of the wittiest visualisations of the Who universe, including the various UK and international locations for stories set on Earth by Doctor and, one of my favourites, the stories which have taken place either in the bowels or at the highest points of the Earth. This covers the depths to which Professor Stahlman sank his drill in Inferno, complete with an eruption of green mutagenic slime; the Loch Ness home of the Zygons' ship and their pet Skarasen complete with own pied-a-terre cave; the Silurians' Derbyshire residence and, at the other end of the scale, Vesuvius, the remains of Atlantis and the Himalayan setting for Marco Polo's trek to Peking and the Detsen monastery besieged by Yeti...
"You need to know these things. And you can discover these nuggets and much, much more in Paul Smith's beautifully designed and written book which definitely earns the 'labour of love' sobriquet. It should be required reading for all Doctor Who data nerds."
Click to read the full review by Frank Collins
Life, Doctor Who and Combom
"It's a daunting, almost foolhardy task to try and create a text that could contain all of the information and trivia that could cover the whole of Doctor Who, but Smith delivers a near definitive text on the series. Time & Space Visualiser is an excellent reference source for the Doctor Who fan who wants to know every little detail about their favourite show...
"Don't expect a boring treatise of statistics from this book. Each set of data is illustrated by a colourful and creative infographic that makes the sometimes overwhelming figures easier to comprehend... Not every single chart or set of information really interested me, though I was very impressed by the ways Smith rendered each of the infographics.
"I would rate this book a solid 8/10. It is certainly not for every type of Doctor Who fan, but for the audience it's trying to reach, it is definitely a worthwhile buy. Even the most knowledgeable Whovian could probably pick up a few new bits of trivia from Smith's exhaustively researched book."
Click to read the full review by Brian Long