BASED ON THE POPULAR BBC TELEVISION SERIAL
FOURTH EDITION - FULLY REVISED, UPDATED & EXPANDED - AVAILABLE NOW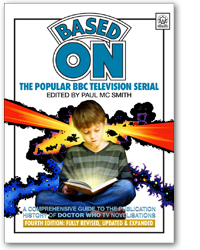 The Fourth Edition of this comprehensive guide to the novelisations of broadcast Doctor Who is now available to download. Including details of all the latest print and audiobook releases, with the Classic Era entirely novelised at long last; additional facts about the books and their covers, including further editions and new uses of the artwork since the Third Edition three years ago; completely revised, precise word counts for every book; exclusive chapters-per-episode charts showing how page counts varied for each serial; and additional context of the most recent episodes on TV when each book was published.
Every book adapted from the television episodes (plus a few from other broadcast media) is covered, from the Doctor's first Exciting Adventure with the Daleks to the latest adaptations of 21st century episodes. Every edition is listed with original prices and cover details, back-cover story teasers and chapter titles, word and page counts, plus extensive notes relating to the books and their iconic artwork.
There's a wealth of information about the original paperbacks and hardbacks, their reprints and audiobook readings. Find out which story was novelised the soonest after broadcast; how long it took to adapt each Doctor's era; which title has the most editions (26 to date!); where else cover artwork has appeared; and much more.
Based On The Popular BBC Television Serial is a fully linked and bookmarked PDF which is FREE to download for reading on your PC or tablet. If you do find the book useful and informative, appreciate the months of work that have gone into compiling it, or would like to support future projects, then please donate whatever you consider an appropriate amount. Click the one of the buttons below to donate via PayPal or Ko-fi and download. Many thanks for your support.
Based On The Popular BBC Television Serial; 245 pages, colour; Compiled and edited by Paul MC Smith; Published by Wonderful Books; Interactive PDF; Free
Already donated? Download the latest edition here
Note: The download is a 125Mb Zip file which you will need to uncompress to access the PDF. This is password protected only to prevent editing so should open as read-only; if you have problems make sure your PDF reader (ideally Adobe Acrobat) is up to date. If you want to view the document on a phone or tablet, we suggest downloading and extracting the PDF on a desktop or laptop PC first then sideloading it to your mobile device.
Itemised variants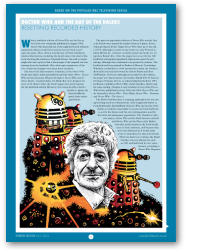 Previous editions included a couple of essays detailing the textual variations
in different instances of Doctor Who and the Day of the Daleks and
Doctor Who and the Planet of the Daleks. I had thought to add some more
of these for the new edition but ran out of time and, to be honest, inclination --
having had no feedback on these essays they may be too deep a dive
even for Doctor Who fans!
I chose to leave them out of the Fourth Edition, therefore, but
they can be downloaded here as a separate PDF (17Mb Zip file).